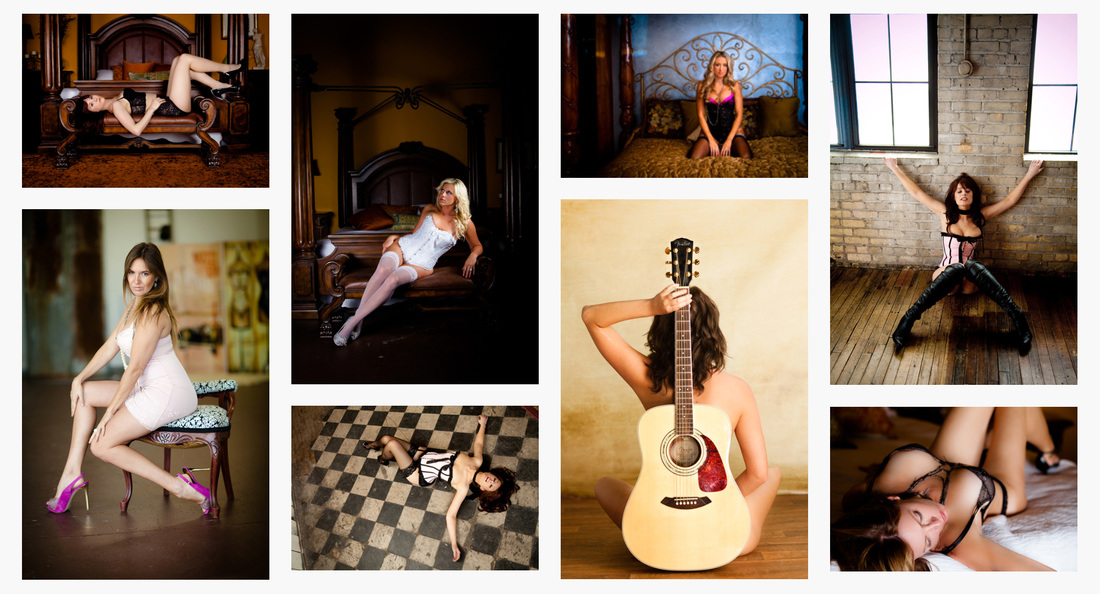 feel fabulous!
We all deserve to experience a boudoir session. Whether you are giving a romantic gift to a loved one or treating
 yourself, this is an excellent session to empower yourself and feel fabulous!
photography style

I strive to create a relaxed and comfortable experience, while capturing a variety of artistic portraits. My goal is to create boudoir portraits that are beautiful, sexy and intimate. My style is very tasteful and classy. I will help pose you, while using artful and dramatic lighting. After the session, I use retouching and airbrushing to bring out the best in your
photos
.
what to wear

Styling is key. You may wear something as simple as your favorite bra and underwear, however I recommend outfits that embrace your feminine features and accentuate your curves. Victoria's Secret is an excellent place to shop for your outfits. Stiletto heels, thigh high stockings and corsets are on the top of my list. Even if you don't typically wear 4 inch heels, this is the perfect session to bring out that edgy side of you. This boldness should also show in your hair and make-up. I suggest a smokey eye and false lashes. Big soft curls for your hair is also very appealing. You should come with you hair and make-up ready.
artistically edited

Following your session, I will select the best images for processing and retouching. I devote my time to carefully comparing the numerous images from your session to select the best ones ~ based on overall appeal, I will narrow these down for you. These final selections are each individually edited. I will then consult you on options for displaying your boudoir portraits. 
scheduling

My schedule fills up quickly, so it is always best to
contact
me sooner than later for an appointment. I offer an annual special typically from January through Valentine's Day. Make sure you keep an eye out and call in advance if you would like to use these for a Valentine gift.
investment
Your investment will include airbrushed and edited photos. You have the option to order prints, a musical slideshow of all of your edited images, and/or an Italian handmade album. From each individual photo to the luxury album, you are sure to be amazed!

One-hour session (includes 20-30 images): $285.00